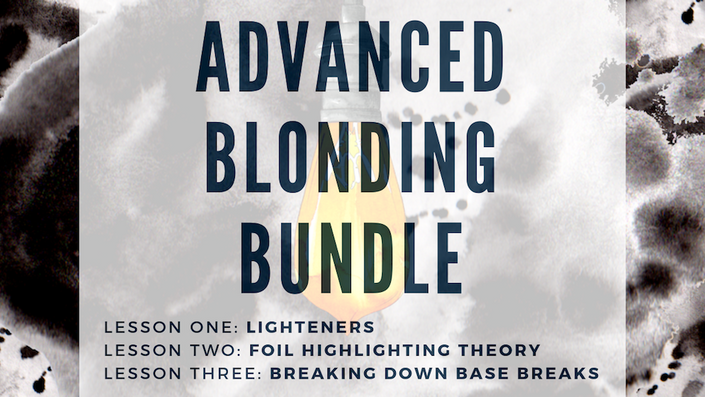 Advanced Blonding Bundle
Three Lesson Course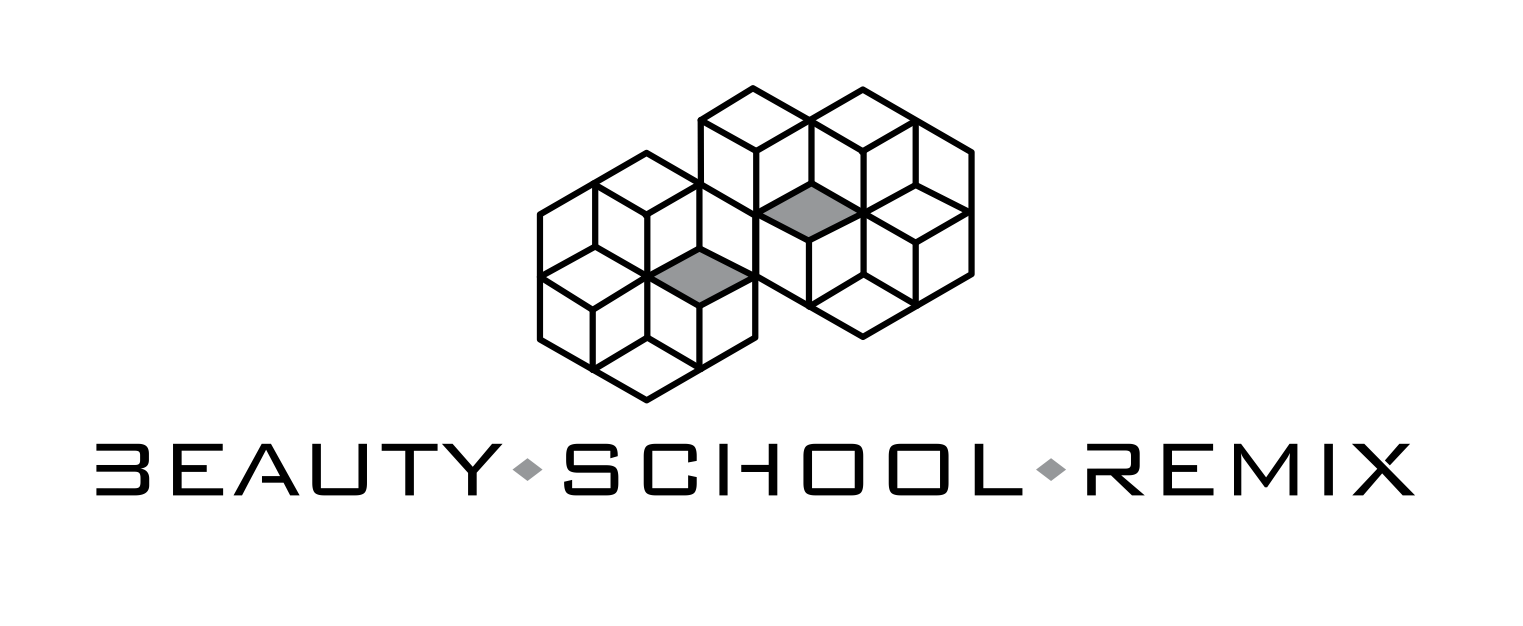 The Advanced Blonding Course Bundle is perfect for a hair stylist that already has a deep understanding of color theory and formulation, as well as a good grasp on how to formulate for underlying pigment with their current color line. These are the lessons that will give you a strong education about how to create a beautifully crafted blonde. By the end of it, you should be very confident with your:
Lightener choice
How to lowlight intelligently
Whether or not to use heat to process
Your "signature" foil highlighting pattern
How to properly do a base break (and how to know if you want to do one!)
This will help elevate your work in the eyes of your clients, and separate you from your peers as you become and expert in blondes.
This Three Lesson Bundle includes:
Lesson One: Lighteners 1 Video Lesson (29 min) and 1 workbook
Lesson Two: Foil Highlighting Theory, 1 Video Lesson (34 min) and 1 workbook
Lesson Three: Breaking Down Base Breaks, 1 Video Lesson (28 min) and 1 workbook
Bonus: Salon Exercises
---
Lesson One: Lighteners
It's impossible to talk about blonding without discussing how important lighteners are. And they carry so many questions….
What volume developer should I use?
How long should it process for?
Is it lifted enough?
What kind of lightener should I use?
My lightener is too thick, how can I make it thinner? (hint: don't add more developer)
My lightener is too thin, how can I make it thicker? (hint: don't add less developer)
Can I use heat with it?
Sometimes blonde hair goes hand in hand with damaged or stressed hair, but it doesn't have to be like that. Your first responsibility is to protect the integrity of the client's hair, right? Lighteners are the one tool in our salon that can cause the most potential damage to the hair if they are misused. It's time to really shine a spotlight on how to use them correctly, how to pick the right one for the job you need to do, and how to avoid the most common mistakes hairstylist make with lighteners.
What you'll Learn:
The Difference Between Lighteners and Artificial Haircolor
Advantages and Disadvantages of Lighteners
Optimal Working Time of Lighteners
The Types of Lighteners
Your Developer Choices
The Smart Way to Adjust the Consistency of your product
In addition to that, there is a huge debate among our industry is whether or not to use heat with lighteners. We are really going to dispel myths on that one and get real. I'm going to tell you which scenarios I use heat with lightener, which scenarios I'm not likely to use heat with my lightener, and which scenario I won't ever use heat with lightener for. Heat is not the enemy: Misinformation is the enemy.
Plus, a bonus Step-by-Step On-Scalp Lightener Application with a real client of mine. Including all the the dirty details from application, to processing, to rising, to toning, and how to avoid the biggest mistake…. Rinsing out too soon. By the end of this lesson you will be on your way to becoming an expert with lightener.
---
Lesson Two: Foil Highlighting Theory
The whole point of highlighting hair is to draw attention toward (or away from) an area. Lots of highlights will make the entire color palette appear lighter, whereas adding dimensional depth can further customize your work. There is nothing new about the concept of highlighting hair. In fact, the desire to highlight hair dates back to Ancient Greece as early as 4 B.C. But the the success of the process really began to take off in the early 1800's. And the use of foils were a game-changer for highlights.
Foil placement and patterns are the easy part for us. Highlighting hair comes with two big issues: Timing and Formulation. Since lighteners are progressive, if that's what's in your foil, how are you going to get all of your sections lifted evenly? And when you are lowlighting hair, how do you formulate to balance out the Natural Level and the Existing Level without lifting the root, and without getting muddy ends?
What you'll Learn:
Purpose of Highlighting
Highlighting Vocabulary
What's the Real Difference Between Lightness vs Brightness
Everything You Need to Know About Lowlighting
Foil Placement & Partings
How to Be Successful With Your Foil Timing
Avoiding Common Foil Folding Problems
How to Create a Signature Foil Pattern
We will also discuss Signature Foil Patterns. During your career, the first foil highlighting pattern you learn will become your obsession. You'll slave over it, perfect it, and over time it will morph it into what you need it to be and it will represent your aesthetic as a colorist. Then it will become your favorite, your go-to, and finally your "signature pattern". This lesson includes a very detailed explanation of My Signature Foil Highlighting Pattern for you to use as a starting point, and all three variations of it:
Partial Foil Highlight for Side-Parters
Partial Foil Highlight for Middle-Parters/Hair-Flippers
Full Foil Highlight
---
Lesson Three: Breaking Down Base Breaks
Base Breaks can be a blonde's best friend. They are an excellent technique for hairstylists that really care about the finished result of the overall color palette, and a base break will ensure there is brightness everywhere with full-on tonal refinement. It's a modern, elevated blonde look, particularly with foils.
A base break is designed to lift a client's natural base color 1 to 1.5 levels, usually after highlighting them, and will accomplish the following things:
Soften Highlights
Blend a color palette together
Give more brightness than just highlighting alone
Reduce contrast between base color and highlights
Grow in less obvious than a traditional single process
I want to keep this lesson as realistic as possible for you. The two mixing ratios I use for my base breaks, everyday in the salon, are just with regular permanent color. I don't use anything that is specifically formulated to be a base break. Permanent color makes an excellent base break, as kong as the mixing ratio is correct.
What you'll Learn:

Who the Ideal Base Break Client Is
Who You Should Never Do a Base Break On
Why A Base Break Formula Is Unique
Base Breaking Formulation Guidelines
Two Possible Mixing Ratios
A Step By Step At-the-Chair Application
Real Client Scenarios and Their Custom Formulations
Why Hair Texture Matters So Much
There are really no wrong answer for a base break formula. There are "less right answers" and "more right answers", but the differences between formulas are usually very subtle. You just need to stay true to the color wheel.
Also included in this lesson are:
A Base Break Cheat Sheet with basic suggestions for first time base breaks: including all your available options to formulate a base break for a level 8,7,or 6 client regardless of the color line you use.
And 4 real client scenarios with pictures and formulations, exactly like you see everyday behind the chair.
---
*Single Lessons are available for purchase if you just need a refresher.
Your Instructor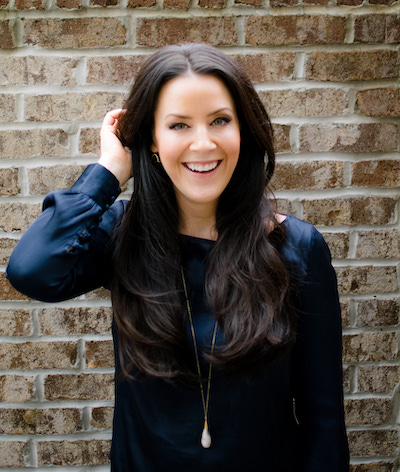 15+ year beauty industry veteran, specializing in advanced color techniques behind the chair, training new stylists in color theory, and the creator of this on-demand post-beauty school education platform. To read her blog, click here.
Course Curriculum
Advanced Blonding: Three Lesson Bundle
Available in days
days after you enroll
Frequently Asked Questions
When does the course start and finish?
The course starts now and never ends! It is a completely self-paced online course - you decide when you start and when you finish.
How long do I have access to the course?
How does lifetime access sound? After enrolling, you have unlimited access to this course for as long as you like - across any and all devices you own.
What if I am unhappy with the course?
We would never want you to be unhappy! If you are unsatisfied with your purchase, contact us in the first 30 days and we will give you a full refund.